Hammered goldtone bangle bracelet by jewelry designer Holly Yashi
$45.00
This hammered goldtone bracelet is made by Holly Yashi.
2 in stock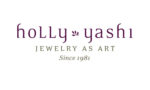 Description
This bangle bracelet is made by Holly Yashi. Holly calls this bracelet her "everyday bangle".
The bracelet is made from gold-overlay, which is brass with 24K gold plate. This goldtone bracelet has a hammered texture.
This goldtone bangle bracelet has an opening of 2 5/8 inches to allow the bangle bracelet to fit most small to medium women's wrists. The bracelet measures 4 mm tall.
This Holly Yashi bangle bracelet comes with Glassando's original store tags and a gift box.
Brand
Holly Yashi Jewelry
Holly Yashi jewelry is made in the USA at a studio in Arcata, California. This company was founded by Holly Hosterman and Paul "Yashi" Lubitz. They have been making Holly Yashi jewelry together since 1981. At Glassando we are proud to carry this unique line of handcrafted artisan jewelry.