Adajio Earrings- Mountain blue sky earrings
$23.95
These mountain earrings are lightweight and feature sterling silver ear-wires.
1 in stock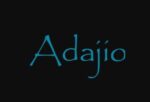 Description
These blue mountain earrings feature a silver-tone swirl, that could be the sun or moon.
Adajio earrings are designed and made in the USA by Left Hand Studios.
These hook style ear-wires slip easily into the ear and are sterling silver earwires. These earrings are also lightweight and good for people with sensitive ears.
These earrings measure approximately 1.5 inches long (including the ear-wire) by 0.75 inches wide.
These blue Adajio earrings would make a great gift for anyone who loves unique earrings, light weight earrings, or appreciates handmade jewelry.
These brand new blue earrings come with Glassando's gift box that is great for giving or storage for years to come.
Brand
Adajio Jewelry by Left Hand Studios
Adajio jewelry is designed by Left Hand Studios. Earrings are etched then embellished by hand. Earrings are handmade in the USA in Left Hand Studio's jewelry workshop. Visit Glassando inside downtown Iowa City's Old Capitol Town Center for more handcrafted jewelry. Glassando features Adajio earrings by Left Hand Studios as well as handcrafted jewelry from approximately 60 designers and artisans.